Pranayam
A universal self-healing technique, Pranayam is proper breathing technique which can lead us into meditation to heal our mind, body and spirit.

Pranayama has the capacity of freeing the mind from untruthfulness, ignorance and all other painful and unpleasant experiences of the body and mind; and when the mind becomes clean it becomes easy for the Sadhaka to concentrate on the desired object and it becomes possible for him to progress further in the direction of Dhyana and Samadhi.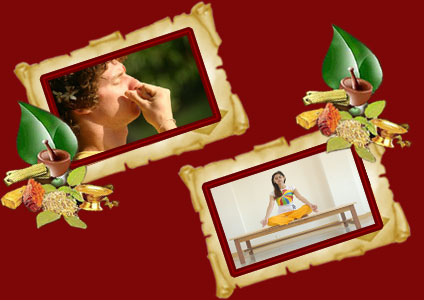 Physically, Pranayam appears to be a systematic exercise of respiration, which makes the lungs stronger, improves blood circulation, makes the man healthier and bestows upon him the boon of a long life. Physiology teaches us that the air (Prana) we breathe in fills our lungs, spreads in the entire body, providing it with essential form the body, take them to the heart and then to the lungs, which throws the useless material like carbon dioxide out of the body through the act of exhalation. If this action of the respiratory system is done regularly and efficiently, lungs become stronger and blood becomes pure.